Turkey Tail Tincture - Original
Regular price
Sale price
$34.00 USD
Unit price
per
Sale
Sold out
Stay well all year long with Turkey Tail mushrooms! This powerful mushroom promotes immune health, nourishes healthy bacteria in the gut, and is rich with antioxidants that combat cellular stress. This product contains alcohol. Our alcohol-based tincture has an earthy, potent flavour. 
We offer an Alcohol-Free format made with vegetable glycerin which has a sweet flavour profile (sugar-free). Shop Turkey Tail Tincture Alcohol-Free format here.

Natural Product Number (NPN) - 80115940
Our Turkey Tail mushrooms are sustainably wild-harvested in Canada,  thoroughly extracted in our Health Canada licensed facility, and 3rd party lab tested
for contaminants such as heavy metals, pesticides, microbes, and gluten.
Benefits of Turkey Tail Tincture

Gut Health
Turkey Tail mushrooms are rich in prebiotics, a type of fiber that nourishes healthy bacteria in the gut. Improving gut health has a profound impact on overall well-being; facilitating improved absorption of nutrients, reducing the risk of digestive illnesses, and improving energy levels throughout the day.

Antioxidants
In response to stress and pollutants, our bodies produce what are called "free radicals", unstable molecules which can damage cells and DNA in a process called "oxidation". Turkey Tail is very rich in antioxidants that protect your cells from the oxidative stress caused by free radicals.


Immune Support
The immune system is made up of innate responses (defend against and isolate threats in the body), and adaptive responses (attack specific pathogens to destroy them). Turkey Tail promotes the development of lymphocytes, the cells responsible for producing antibodies to fight off infection, and the cytokines which communicate with surrounding cells. 

Learn more about all the benefits Turkey Tail has to offer here.
Ingredients

Medicinal Ingredients (per serving - 4 ml)
Turkey Tail (Trametes versicolor - Fruiting body) – 138 mg
Non-medicinal Ingredients
Purified Water, Organic Ethyl Alcohol.

Verified Beta-D-Glucans > 53%

Sustainably wild-harvested Turkey Tail
No fillers or grains
Made with the whole fruiting body
Dual-extracted via ultrasonic-assisted extraction
Organic, pharma-grade (USP), Cane-derived Ethyl Alcohol Vegan + Gluten Free + non-GMO + Kosher + Halal
How to Use

Directions of Use
Shake well before use.
Adults: Take 4 droppers (4 ml) daily in any beverage or as advised by your healthcare practitioner.

Storage
Store in a cool, dry place. 

Warnings
Consult a health care practitioner prior to use if you are pregnant or breastfeeding.
Share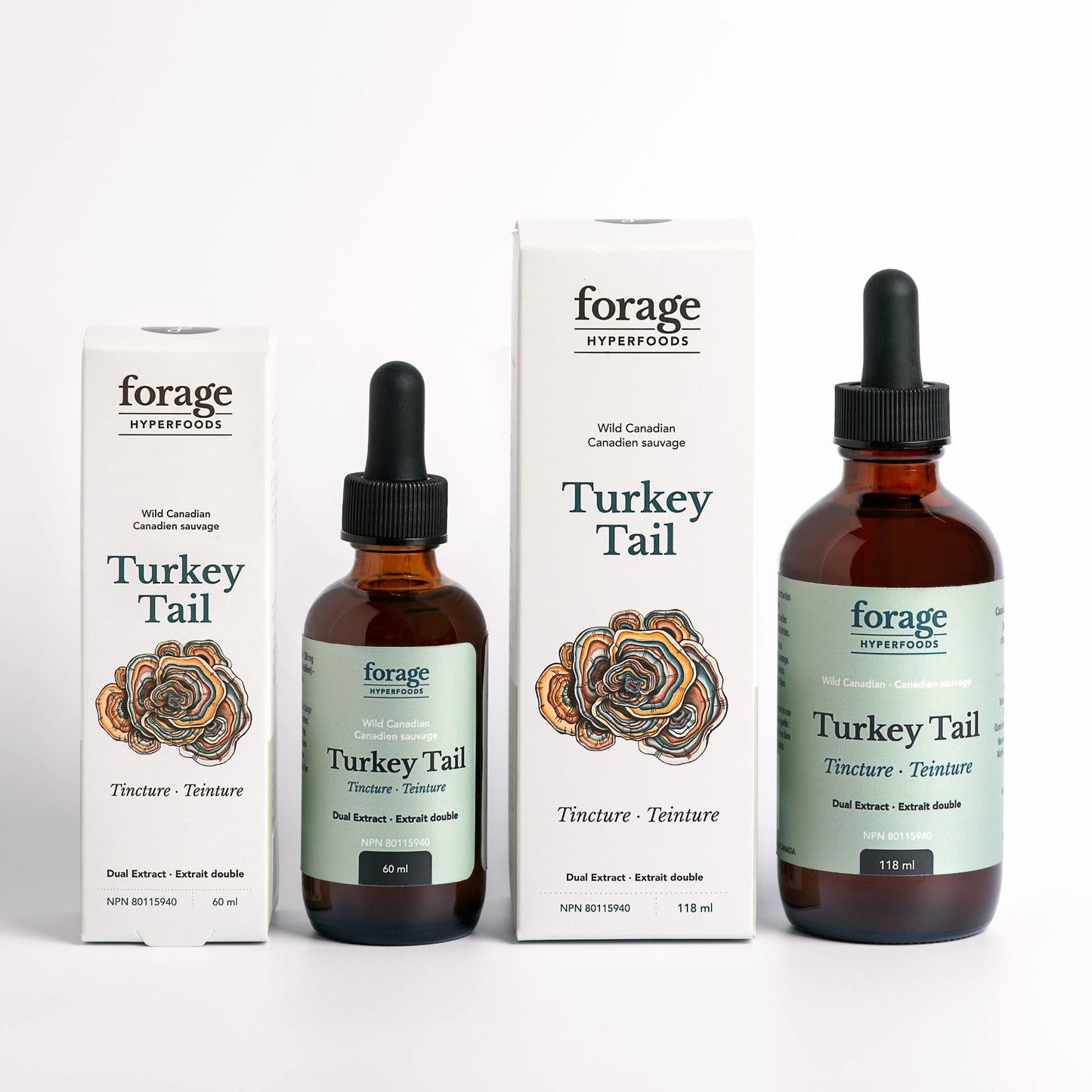 FAQs
What is Turkey Tail?

Turkey Tail is a multi-colored mushroom, named for its coloured stripes and ruffled edge. The mushroom is abundantly found in forests around the world, and has been a staple in Eastern and Native American medicine for many years.
When should I consume Turkey Tail?

Consuming prebiotic-rich Turkey Tail first thing in the morning, before a meal, may help facilitate improved absorption of nutrients to improve energy levels throughout the day.
What is a tincture?

A tincture is a concentrated liquid extract that's made by soaking mushrooms in a solvent—typically alcohol and/or hot water. This process unlocks the active ingredients in the mushrooms, leaving you with a potent liquid that can be dosed with a pipette. Tinctures offer a concentrated, immediate way to incorporate functional fungi like Turkey Tail into your routine.
What does a Turkey Tail tincture taste like?

Turkey Tail has a mild, earthy taste. Our alcohol-based tincture has a more potent flavor, where our glycerin-based (alcohol free) tincture has a sweet taste (sugar-free).
How are Forage tinctures extracted?

We use industry-leading Ultrasonic Extraction technology to produce high potency extracts that feature all of the fungi's health-promoting polysaccharides, triterpenes and vitamins. This method is the most efficient at breaking down mushroom cell walls to release active compounds contained in them, delivering a potent and bioavailable liquid extract.
Can I use more than one mushroom tincture at a time?

Yes! But we do recommend starting with one mushroom tincture at the recommended daily dosage for up to two weeks to see how your body responds before adding another tincture to your routine.